Reloading Handbook
Hornady®
11th Edition

Handbook of Cartridge Reloading

Whether you're a novice or a seasoned hand loader, this book will provide everything needed to successfully reload your favorite cartridges!

11th Edition Handbook of Cartridge Reloading

Item #99241 - Available Soon! MSRP $42.07
{{gallery.thumbs[galindex].description}}
Product
Features
The 11th Edition Handbook of Cartridge Reloading includes the latest Hornady bullets, along with new cartridges, powders and more. It is filled with handloading techniques, bullet information and reloading data – it's a one-stop shop for support of Hornady component bullets.
New cartridges include the latest efficient and accurate Hornady developments like the 6mm ARC, match-winning 6mm Creedmoor and high-powered 6.5 PRC and 300 PRC.
Featuring
Over 1,000 pages of reloading data, techniques and bullet information.
200+ different calibers featuring a variety of loads using Hornady® bullets.
An impressive lineup of new and expanded data that incorporates new powders, new bullets like the A-Tip® Match and new additions in the ELD-X, ELD Match, GMX, FTX, Sub-X and more.
New cartridge additions like the 6mm ARC, 6.5 PRC, 300 PRC, 224 Valkyrie, 350 Legend and 28 Nosler.
Well over 1,500 load combinations were shot to update and expand the reloading pages in this edition.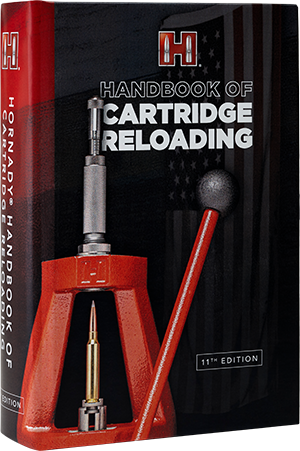 Three ways

to get the Hornady Handbook of Cartridge Reloading.
Hornady® Reloading App
Like the bound and eBook versions, the Hornady® Reloading App provides all the information needed to successfully reload a variety of rifle and handgun cartridges. Plus you can save favorites, add notes and more. Reloading data is avialable as low as 99¢ per cartridge or purchase a subscription for $19.99 and receive new data before the next book is printed.
Hardcover Book
This invaluable resource has over 1000 pages of data on all Hornady bullets. Purchase this hard-bound book and get reloading results.
Electronic Book
Download the Reloading Handbook as an Apple® iBook or get it on your Kindle®. Take it with you anywhere!
Reloading

with Rosie

Join British celebrity and budding reloading enthusiast Rosie Jones as she learns everything from the basics to the finer points of reloading with the help of industry experts using the finest Hornady equipment.