Lock-N-Load® Case Feeder
Item #095300

MSRP $481.47
With our high volume Lock-N-Load® Case Feeder, the Lock-N-Load® AP™ just got faster. It has the highest torque motor in the industry and an extra large case bowl that makes it possible to load over 500 rounds of high quality ammunition per hour, depending on experience and proficiency. The Lock-N-Load® Case Feeder comes complete with everything you need except the case feeder plates, which are sold separately.
Product
Features
Adapts to your Lock-N-Load®AP™ press
The Case Feeder bolts to Lock-N-Load® AP™ presses with serial number 7000 and higher. For serial numbers below 7000, we offer a sub-plate conversion kit.
For details, give us a call at 1-800-338-3220.
(Not compatible with the Projector™ press.)
Change overs are easy
Changing the Lock-N-Load® Case Feeder from one cartridge to another is quick and simple. Change overs typically take about 5 minutes.
Feeds every cartridge
If Hornady® makes a standard shell plate for it, the cartridge will also feed through the hopper.
Fail-safe case slide mechanism
Slotted cam wire fixture prevents damage from misfed cases or incorrectly adjusted shuttle.
Cartridge adaptors included
The Case Feeder comes with six cartridge adaptors to ensure proper feeding of your cases into the shell plate. The instructions include a V-Block usage chart so there's no guessing about which adapter to use.
Find the right dies & accessories to complete your reloading project.
Dies & Die Accessories
Case Feeder Plates
Bullet Puller Collets
Trimmer Pilots
Shell Holders & Shell Plates
Primer Punch
View

Sizing Charts
Case Feeder

Plates

Select from our four Case Feeder Plates tailor-made for the Lock-N-Load Automatic Case Feeder.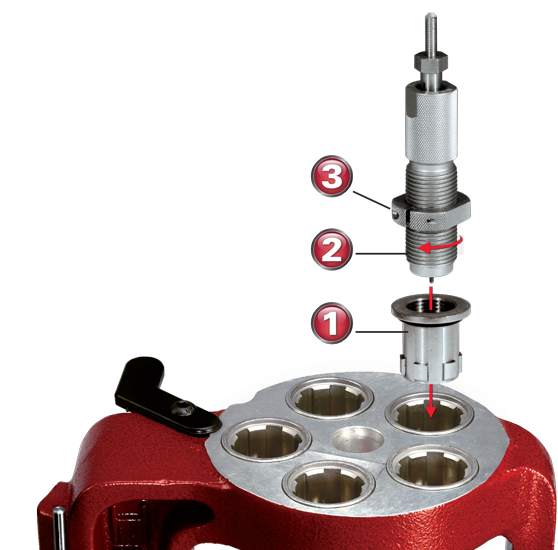 How Lock-N-Load® Works
The Hornady® Lock-N-Load® System is as Easy as 1-2-3
Insert the Lock-N-Load® die bushing into the press bushing and lock it into place with a twist. The six locking lugs on the die and press bushings will hold it securely in position.
Insert your standard die with 7/8"-14 threads into the Lock-N-Load® bushing.
Adjust the die to the proper position and lock your setting into the place with Hornady's unique Sure-Loc™ lock ring.
To change calibers, simply twist the die counterclockwise, remove die and insert your next preset Lock-N-Load® die and bushing. Because they remain locked in their Lock-N-Load® bushings, your dies will remain exactly as you set them. The positive locking action of the Lock-N-Load® bushings holds the dies in rock solid, perfect alignment.
Once you try Lock-N-Load® from Hornady®, you'll NEVER want to go back to your old system!
Product Resources