Cartridge Cases
The foundation of Hornady® Ammunition
At Hornady,® brass is the foundation for what could be the most memorable shot of your lifetime. Extra time and care is taken in the creation of our cases, producing smaller lots that meet strict quality standards.
Our cases offer reloaders excellent uniformity in wall thickness, weight and internal capacity. We measure for consistently tight wall concentricity and even run our cases through a pressure calibration test to ensure uniform case expansion during firing.
Our cases allow proper seating of the bullet, not only in the case, but in the chamber as well. High quality brass contributes to consistent charges and pressures.
Product
Features
Tight Wall Concentricity
Concentricity helps to ensure proper bullet seating in both the case and the chamber of your firearm. Higher concentricity also aids in a uniform release of the bullet on firing, for optimal velocity and accuracy.
Uniform Case Wall Thickness
Benchrest shooters have long known that uniform case wall thickness is vital to accuracy. We manufacture to extremely tight tolerances to ensure this critical element is as consistent as possible.
More Reloads per Case
We treat Hornady brass as the foundation for an accurate cartridge, not a commodity. Because we take greater care in its creation you'll get more reloads from Hornady brass.
Consistent Weight and Capacity
Every single Hornady case, regardless of the lot in which it was produced, is virtually identical to other Hornady cases in the same caliber. For you, this means consistent pressures, velocity and accuracy — every time.
Rifle Cases
22-250 Remington
8610B
2000
243 Winchester
8620B
2000
6mm Creedmoor
86280B
2000
25-35 Winchester
86101
50
25-06 Remington
8625B
1500
6.5 X 55mm Swedish
86263
50
6.5 Creedmoor
86281B
2000
6.8 Remington SPC
8629
50
6.8 Remington SPC
8629B
2500
270 Winchester
8635B
1500
270 Winchester Short Magnum
8637
50
7mm-08 Remington
8646B
2000
280 Ackley Improved
86381
50
7mm Winchester Short Magnum
8639
50
7mm Remington Magnum
8640
50
7mm Remington Magnum
8640B
1200
7mm Shooting Times Westerner
8643
50
30-30 Winchester
8655B
2000
308 Marlin Express
8662
50
308 Winchester
8661B
2000
30-06 Springfield
8665
50
30-06 Springfield
8665B
1500
300 H & H Magnum
86725
50
300 Winchester Short Magnum
86701
50
300 Winchester Magnum
8670
50
300 Winchester Magnum
8670B
1200
300 Remington Ultra Magnum
86724
20
338 Ruger Compact Magnum
86831
50
338 Winchester Magnum
8680
50
375 Flanged Mag Nitro Express
86747
20
450/400 Nitro Express 3
86934
20
416 Remington Magnum
86874
50
50 BMG Match Grade
8772
20
7 X 64mm Brenneke
8647
50
Handgun Cases
40 Smith & Wesson
8742
200
40 Smith & Wesson
8743B
5000
44 Remington Magnum
8750
100
45 Colt (Revolver)
8780
100
460 Smith & Wesson Magnum
8786
50
500 Smith & Wesson Magnum
8790
50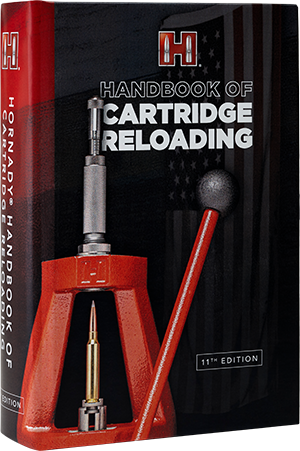 Three ways

to get the Hornady Handbook of Cartridge Reloading.
Hornady® Reloading App
Like the bound and eBook versions, the Hornady® Reloading App provides all the information needed to successfully reload a variety of rifle and handgun cartridges. Plus you can save favorites, add notes and more. Reloading data is avialable as low as 99¢ per cartridge or purchase a subscription for $19.99 and receive new data before the next book is printed.
Hardcover Book
This invaluable resource has over 1000 pages of data on all Hornady bullets. Purchase this hard-bound book and get reloading results.
Electronic Book
Download the Reloading Handbook as an Apple® iBook or get it on your Kindle®. Take it with you anywhere!
Reloading

with Rosie

Join British celebrity and budding reloading enthusiast Rosie Jones as she learns everything from the basics to the finer points of reloading with the help of industry experts using the finest Hornady equipment.