Hornady® has become synonymous with success in the field and on the firing line — in all conditions and environments. From prairie dogs to dangerous game, plinking to competitive shooting, we have a bullet for every application.
Driving the Industry Forward
Defined by our actions, Hornady has always led the industry in innovation.
At the front end of every ammo cartridge is a bullet that was designed for combat troops, hunting excursions and personal protection. Our slogan, "Accurate. Deadly. Dependable." is not just a string of three words. It's our commitment to leadership and performance.
Product innovations such as the secant ogive bullet design, Flex Tip® technology, and the Heat Shield® tip, broke new ground in ballistic engineering and are now used in bullets for everything from match shooting to hunting.
Premium
Components
EXCELLENCE
Hornady has been an industry leader in bullet design and innovation since 1949. "Ten Bullets Through One Hole" was the philosophy adopted by the company's founder, Mr. Joyce Hornady, and continues right through today. Consistent quality, accuracy and performance are, and always will be the hallmarks of all Hornady products.
QUALITY CONTROL
We oversee each aspect of production to insure that every bullet meets our stringent quality assurance criteria. With our own high-tech underground test facility, complete with top-of-the-line test equipment, we constantly test everything we make. We're obsessed with providing the best performance from every single bullet we design.
VARIETY
Our impressive product line includes over 300 bullets, ranging from 17 caliber all the way up to the 50 BMG. We are always working to originate the next technological innovation and we thoroughly enjoy what we do. From prairie dogs to dangerous game, we have the perfect bullet to meet every hunting and shooting need.
FREE Ballistic App with 4DOF®
The new Hornady Ballistic Calculator App includes the advanced 4DOF® calculator as well as a standard BC calculator. Providing more accurate trajectory solutions, the 4DOF® calculator incorporates the projectile's movement in the standard 3 degrees but also adds its movement about its center of gravity and subsequent angle relative to its line of flight, which is the fourth degree of freedom.
Features:
Calculates more accurate trajectories, especially at extreme ranges
Can be used without wireless connectivity
Pre-populated with long range match and hunting style bullets
App Store
Google Play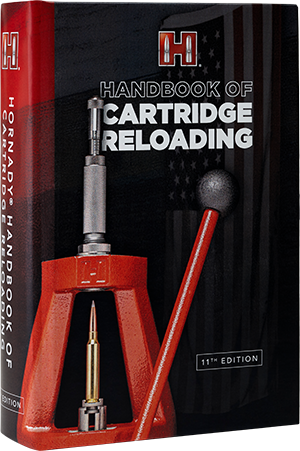 Three ways

to get the Hornady Handbook of Cartridge Reloading.
Hornady® Reloading App
Like the bound and eBook versions, the Hornady® Reloading App provides all the information needed to successfully reload a variety of rifle and handgun cartridges. Plus you can save favorites, add notes and more. Reloading data is avialable as low as 99¢ per cartridge or purchase a subscription for $19.99 and receive new data before the next book is printed.
Hardcover Book
This invaluable resource has over 1000 pages of data on all Hornady bullets. Purchase this hard-bound book and get reloading results.
Electronic Book
Download the Reloading Handbook as an Apple® iBook or get it on your Kindle®. Take it with you anywhere!