There are many reasons to handload your own ammunition. It's fun, economical, and rewarding and you can attain maximum accuracy if you have the right tools. Hornady provides everything you'll need— from presses and dies to case care and measuring equipment, we have it all. Start here and get in the zone!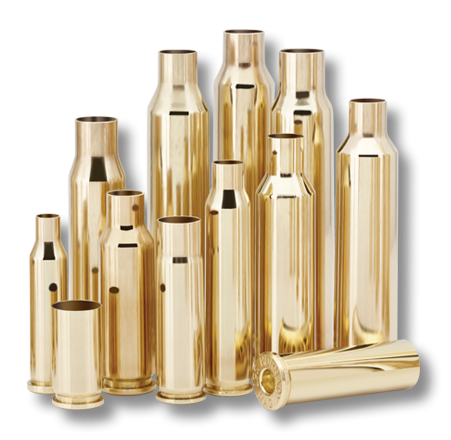 Premium

Cases
The Foundation of Hornady® Ammunition
Brass is the foundation for what could be the most memorable shot of your lifetime. Extra time and care is taken in the creation of our cases, producing smaller lots that meet strict quality standards.
Our cases offer reloaders excellent uniformity in wall thickness, weight and internal capacity. We measure for consistently tight wall concentricity and even run our cases through a pressure calibration test to ensure uniform case expansion during firing.
Reloading
Essentials
The art of reloading requires the use of many caliber-specific tools and accessories. Many of our tools offer multiple sizes that must be aligned with your reloading efforts. Find out what dies and accessories you will need to complete your reloading project.
Reloading
Handbook
An invaluable resource for your bench, with over 900 pages representing data of all Hornady bullets. Each cartridge features applicable Hornady bullets along with velocity/powder charts for easy reference. Purchase your copy and get reloading results.
eBook Editions
Download the Reloading Handbook from iTunes or Amazon. Take it with you anywhere!
New! FREE Ballistic App with 4DOF®
The new Hornady Ballistic Calculator App includes the advanced 4DOF® calculator as well as a standard BC calculator. Providing more accurate trajectory solutions, the 4DOF® calculator incorporates the projectile's movement in the standard 3 degrees but also adds its movement about its center of gravity and subsequent angle relative to its line of flight, which is the fourth degree of freedom.
Features:
Calculates more accurate trajectories, especially at extreme ranges
Can be used without wireless connectivity
Pre-populated with long range match and hunting style bullets
App Store
Google Play
Reloading

with Rosie

Join British celebrity and budding reloading enthusiast Rosie Jones as she learns everything from the basics to the finer points of reloading with the help of industry experts using the finest Hornady equipment.